GRENDEL'S MOTHER: THE SAGA OF THE WYRD-WIFE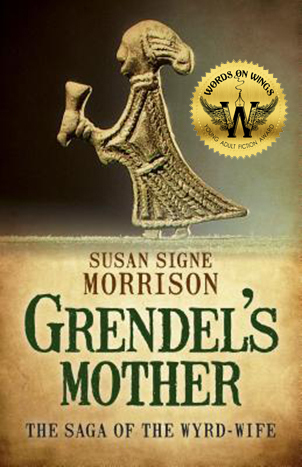 GRENDEL'S MOTHER: THE SAGA OF THE WYRD-WIFE tells the story of Beowulf from the point of view of the women. Visit the website for more information about and teaching resources for early medieval England, Tolkien, John Gardner's Grendel, and of course Grendel's Mother.

Winner: Words on Wings Book Award for young adult fiction
Finalist for the 2016 Wishing Shelf Book Award in the category of Adult Fiction
Finalist for the 2014-2015 Sarton Literary Award for Historical Fiction
Finalist for Foreward Reviews' 2015 Indiefab Book of the Year Award: Historical (Adult Fiction)
….Morrison writes in alliterative, lyric prose that evokes the Old English of her source text: "There she saw the soft seaweed, barnacled bed, of a marine monster. Leaving her work, approaching with caution, she listened for linnets along the lime lane." An incredible world is spun out of blunt, staccato words: a world of customs and objects, of heroes and faiths, and, of course, of monsters. Morrison manages to update the medieval morality of the original poem while preserving its mournful sense of the old ways passing away.
An enchanting, poignant reimagining of Beowulf.
~ Kirkus Reviews
[A] powerful extension of the story and a deep and compelling glimpse into the culture that produced it…. A medieval scholar with an impressive command of her material, Morrison embellishes this powerful narrative of a medieval woman's rise and fall and with threads of Celtic and Germanic legend and myth—herbal medicines, mysterious charms, riddles, poetry, and lore—and sets it all within the context of overwhelming political and cultural change. Her richly evocative prose echoes the poetic structure of Old English alliterative verse…. I wish I'd had Morrison's novel when I was teaching Beowulf; my students would have had a much stronger sense of the real-life struggles that lay behind and created the mythic poem. Those who don't know the poem will appreciate Morrison's work on other levels, for Grendel's Mother tells a universal story of heroic dimensions through the eyes of a woman who sees and understands and deeply feels everything that happens. It is a rare glimpse into a world that is both profoundly alien and surprisingly, wrenchingly, our own.
~ Susan Wittig Albert, NYT bestselling author of Loving Eleanor, A Wilder Rose, and the China Bayles Mysteries, reviewing for Story Circle Book Reviews
Morrison gives us a fascinating account of love, family, honour, sorrow, war, tragedy, and of Gods old and new, in this beautifully written reimagining of Beowulf.…One of the features of the book I enjoyed most was Morrison's writing style. She skilfully combines Old English alliterative verse and modern English throughout the book to give the story an Anglo Saxon flavour and a haunting, eloquent feel to the narrative. [I]t adds depth, authenticity and character to the novel. Morrison is an Anglo-Saxonist, and professor of English literature; her talent for weaving modern language and Old English seamlessly shone through on every page. It never felt out of place…. Whether you're a scholar of Old English, new to the subject, or just interested in early medieval historical fiction, Grendel's Mother is a must-read book to add to any medieval reading list.
~ Sandra Alvarez Medievalists.net
Grendel's Mother is a stunning, imaginative response to the many questions the iconic poem leaves unanswered. The writer's deep knowledge of the Norse Sagas and the world of Beowulf spills from every page….This is the hidden story of the women behind the Beowulf saga. The author does not flinch from the horror and violence that is there in the original version, nor does she stray far from the initial narrative, recreating traditional rhythms and alliteration, whilst still offering us a clear and accessible tale. The conclusion is both satisfying and uplifting, neatly linking the narrative to our present worldview. I recommend this story to any reader who has an interest in the Anglo-Saxon world.
~ Historical Novel Society
[A] gritty, no-holds-barred epic….[A]n English Prof. doing 'Conan the Barbarian'….[S]o dramatic is the storyline that I wondered how this reinterpretation might present as a film….Susan Morrison is a masterful guide through this Dark Age epic, as well as being an accomplished story-weaver of passion and tragedy.
~ Andy Lloyd's Book Reviews
In Grendel's Mother: the Saga of the Wyrd-Wife, an emotionally rich retelling of Beowulf, Susan Signe Morrison reveals the tragically human monsters obscured by the heroic bravado of the original poem. Only a scholar and poet steeped in Anglo-Saxon literature and culture could conceive of such a lyrical extension of the poem from the perspective of the women in the mead hall. Reading it opened the poem to me as never before. What a gift! Grendel's Mother is sure to become an integral part of every class on Beowulf.
~ Candace Robb, author of the Owen Archer Mystery Series and, as Emma Campion, A Triple Knot
Skillfully penned in a style which flows remarkably well, while masterfully incorporating an old world flair, this book transports readers to medieval Denmark and the fascinating world of Grendel….This book reads well as a stand-alone, but would be an excellent companion piece as a prequel for those seeking greater depth, or an alternate view, of Beowulf. Grendel's Mother is highly recommended for home and school libraries and as a teaching tool for educators. This book has earned the Literary Classics Seal of Approval.
~ Literary Classics Seal of Approval
This retelling of the Anglo-Saxon epic by one of the period's most renowned scholars is gloomy and powerful in equal measure. Morrison names the poem's anonymous character (Brimhild) and, in so doing, tragically personalises the victim of the poem's patriarchal violence. The novel's alliterative style constantly enacts the signature of its source: 'loathsome love-making, putrid penetration, corrupt copulation'. Put this on the syllabus next time you teach Beowulf.
~ Peter J. Smith, reader in Renaissance literature, Nottingham Trent University, Times Higher Education, May 12, 2016
This fascinating narrative is to readers today what John Gardner's Grendel was to readers of the 1970s. Grendel's Mother gives extra pleasure to lovers of medieval culture, since Morrison has enriched her novel with numerous treasure pieces taken from the earliest literatures of northern Europe. Poignant and yet exhilarating, Morrison's story surrounding the women of Beowulf has a universal appeal that will keep readers captivated from beginning to end.
~ Haruko Momma, Angus Cameron Professor of Old English Language and Literature, Professor of Medieval Studies and English, and the Chief Editor of the Dictionary of Old English, University of Toronto, author of The Composition of Old English Poetry
I'm knee deep in a new book by a faculty member here at Texas State—Susan Morrison's Grendel's Mother—and it made me think about how much I love stories that take existing, already well-known characters or plots and do something new with them. Morrison's book is an answer to John Gardner's Grendel, which retold the story of Beowulf from the monster's perspective. Morrison's shifts the point of view yet again, giving a name to Grendel's unnamed mother, telling her story. She wanted to put a feminist spin on a time and a tale that largely ignored women…. Several of these works seek to make a statement about the work they're adapting. Morrison, Atwood, and Carter all realign stories that omit or marginalize the female characters and instead bring the women into focus. About The Penelopiad, Atwood has stated that, "I wouldn't even call it feminist. Every time you write something from the point of view of a woman, people say that it's feminist." And I agree, these are not feminist works, but instead a group of works that bring balance to an uneven tradition.
~ Graham Oliver, Twisting the Existing, in Front Porch Journal
Finally, a creator in the long afterlife of Beowulf who puts Grendel's Mother at the centre of our consideration–just exactly where she belongs! And what a figure of knowledge, cultural intersection, power, and pain. Morrison's evocative text not only recreates and restructures the tales underlying Beowulf, but also weaves in a whole host of Germanic and Celtic material, including Norse tales and poems, medical recipes, charms, and riddles. She tells a realistic story of cultural and political intersections, with the focus on the woman at its core: a baptized Christian child, servant in a hall, a pagan queen, a wise woman, a bereft mother, an angel of death, a poet, a true leader and thinker.
~ M. J. Toswell, Professor in the Department of English at the University of Western Ontario
Grendel's mother of Beowulf is one of the most fascinating monsters in world literature, and she finds new life in Susan Morrison's fascinating narrative of love, strife, and sorrow in the age of the Scyldings. Drawing upon her own deep knowledge of ancient and medieval history, Morrison reconstructs a Norse world in vivid detail, creating scenes and characters for whom the great whale road, Valkyries, and earthy magic are terrifyingly real. Morrison's revisionary novel complicates traditional notions of heroism and villainy, evoking an eldritch, feminine power every bit the equal of the brazen warrior's might. Teratophiles, rejoice! With Grendel's Mother, Morrison has given us a "monstrous" woman worthy of our fear, our respect, and our love.
~ Robert T. Tally Jr., Texas State University, author of Poe and the Subversion of American Literature: Satire, Fantasy, Critique
Since the era of Wagner, we have seen great public interest in Old English narratives like Beowulf and in Old Norse narratives like The Saga of the Volsungs. Unfortunately, popularized versions of these tales based on translations often perpetuate unfounded assumptions about what the past must have been like. More informative –– and more enduringly popular –– have been retellings by authors like Poul Anderson and J. R. R. Tolkien, literary artists who know the old tales in their original languages. Morrison has a scholar's command of Beowulf. Like Anderson and Tolkien, she has hit on a method that brings ancient times to life more effectively than direct translation, which entangles the reader at once in doubts and difficulties. The most authentic recreations of early Northwest Europe weave material from many sources into an original plot. We may not understand everything that happens in Beowulf, but Morrison incorporates material from related songs and sagas to create a compelling story with the special appeal of a window on the past.
~ Geoffrey Russom, Professor Emeritus of English and Medieval Studies, Brown University
Grendel's Mother by Susan Signe Morrison is the Beowulf legend as you have never heard it before. If you are familiar with the legendary poem, you will definitely enjoy the fresh and utterly compelling spin Morrison puts on the Old English tale as she creates compelling backgrounds to some of its pivotal characters. However, even read on its own, Grendel's Mother is still as grand. Morrison strips the legend down to its bare bones and recreates it into a fresh and most compelling story. The depth of her knowledge of and passion for medieval tales clearly comes through. The rich and lyrical writing style perfectly fits the era in which the story is set and immediately draws you in, persuading you to dive deeper into the story of the fisher and fighting folk. The plot and character development are one of the best I have come across. Grendel's Mother is no doubt one of the most captivating medieval tales I have ever read.
~ Faridah Nassozi, Readers' Favorite
An absolutely fascinating read from beginning to end, Grendel's Mother: The Saga of the Wyrd-Wife is her very best work to date and is a deftly crafted novel that it is as entertaining and it is thoughtful and thought-provoking. A unique and impressively written work of extraordinary literary merit, Grendel's Mother: The Saga of the Wyrd-Wife is enthusiastically recommended for both community and academic library Literary Fiction collections.
~ Mary Cowper, Midwest Book Review
Overall, this story is about friendship, love, loss, and redemption. The message of this book is that there is always hope….I found this story to an emotional and poignant read. I loved reading Brimhild's journey and wished for her to find her happiness. I found the writing to be very beautiful and lyrical. I also liked how the setting was set in the Anglo-Saxon world, and I loved how Norse mythology was incorporated into the story. Grendel's Mother is sure to linger with you even after you have finished the last page. I recommend this story to anyone interested in reading a different take on the classic, Beowulf, Norse Mythology, and anyone who enjoys reading stories about a mother's love for her son.
~ Lauralee Jacks, History from a Woman's Perspective: A Book Blog
I loved the imagery of this story. I also loved the tales of the Gods, Thor, Odin and Loki and their antics. The only problem with that for me was that every time there was a mention of Loki, I thought about Tom Hiddleston and Chris Hemsworth.
~ A Chick Who Reads
There are several reasons I have given Grendel's Mother 5 stars for excellent.…A beautiful love story.… I read aloud some of Grendel's Mother. I'd read silently through the first page before realizing the writing style had a particular cadence reminding me of poetry.
~ Impressions in Ink
I was captivated by the prose….I am most excited about the chance to use Grendel's Mother alongside Beowulf and The Prose Edda: Tales from Norse Mythology for my kids' Great Books/History homeschool curriculum. I think they will appreciate the feminist story in contrast to the very masculine originals. I also think they will appreciate the examination of feminine life during the period. Grendel's Mother is definitely a book that I will be recommending to any of my friends who enjoy historical fiction. I think it will appeal to anyone who enjoys Norse or Germanic tales, historical fiction in general and epic tales. I am already feeling the need to reread both Grendel's Mother and Beowulf very soon.
~ A Book Geek


By giving us the tale from the female perspective, she has managed to put a completely different spin on it for me. Her beautiful mastery of the language has brought the characters to life for me. These strong women truly were the steel backbone of the society.
~ One Book Shy
This book offers up this infamous story from a new perspective. What's more, and my favourite aspect I think, is that it does so utilizing the devices and tools that characterize the original poem….[O]verall the use of alliteration, epithets, and kenning was beautifully crafted. The tone and style are somewhat alien, especially for a modern reader, but I feel that this is actually working to set the scene and rhythm of a historical space that is very alien to the one we inhabit. Even more importantly that rhythm and tone is consistent throughout and that lets the reader settle into a world that the language patterns and tone, as much as anything else, create. All in all a definite, recommended read!
~ Seize the Words

Along with a number of movie adaptations, Beowulf has been novelized here and there. John Gardner's Grendel stands out, but Susan Signe Morrison's Grendel's Mother: The Saga of the Wyrd-Wife, takes adaptation a step further. Instead of just retelling the story of Beowulf from Grendel's mother's perspective as the title suggests, Morrison goes all in with her titular character….Along with her focus on the life of Grendel's mother (which Morrison extends beyond the fight with Beowulf), Morrison has written her novel in a way that's highly reminiscent of Beowulf's style. [H]er prose offers a great example of how modern novel prose can be crossed over with Old English usage and style. The care with which Morrison blends these two styles is just what I'd expect from a professor of English.
~ A Blogger's Beowulf

Susan Morrison's familiarity with and love of Germanic literature can be found on every page of her novel about Grendel's mother, the unnamed aglæcwif and ides introduced in the poem Beowulf….Morrison's novel shines in its depiction of Brimhild as idealistic, hopeful that violence—in the form of raiding specifically and cycles of violence generally—is not requisite for her society….The novel makes a reader think about the costs of heroism for everyone in a so-called heroic society….What I found most insightful and thought provoking about this novel, Grendel's Mother: The Saga of the Wyrd Wife, was that it asked me to rethink Anglo-Saxon culture as a whole, particularly in terms of violence and its repercussions.
~ Medievally Speaking, by Jana Schulman
A fascinating look at the life of Grendel's mother. Powerfully written and enchanting.
~ The Wishing Shelf Book Awards
Here are some comments by readers for The Wishing Shelf Book Awards
Absolutely fascinating. I enjoyed the original Beowulf; this has added a whole new angle to it. Well-written too with a fab cover. Male reader, aged 54

This is truly excellent. A range of complex characters framed in a richly written text. The author's vision of Grendel's mother is powerful, pulling the reader in. The plot is complex, often graphically written. I very much enjoyed it. Female reader, aged 41

Mythology is ever-present in this fantastical tale of Grendel's mother. Going way beyond the poem, this well-written story brings life to this character, so much so, she's almost the hero. Male reader, aged 73

Brimhild from childhood all the way to her demise. Fascinating. An excellent book to have in any college/university library. The classical language style also works well for a book of this nature set so long ago. Male reader, aged 55

I was thoroughly enchanted by this. Male reader, aged 68